Most days I like chocolate in moderation in my baked goods but there are some rare days where all I want is to stuff my face with a chocolate cake as indulgent as the one they show in the movie Matilda.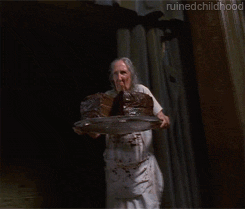 However those days also coincide with the days when I do not want to put in hours into baking something.  One such day happened to be last week. I had come back from work and instead of dinner all I wanted to have was a really good, really indulgent chocolate cake. All the chocolate cakes/cupcakes I could think of required frosting or ganache and I was not feeling up to putting that much effort.
So I scoured my mind and remembered THIS recipe I had seen Nigella Lawson make on TLC.  It turned out to be just what I wanted, it's packed with chocolate and as I mentioned in the title it was enough on it's own and the whole cake took about 1.5 hours to make (around 30mins prep time and 60mins baking time)!
A few notes for the recipe:
I used 1/3rd cup Tok Doi (Yogurt) instead of the sour cream
Instead  of using 1 cup chocolate chips in the batter,  I used 1/4th cup of chopped chocolate and it seemed enough for me.
Same with the topping, I did not follow the amount specified in the recipe I only sprinkled over chopped chocolate until it looked enough.
I tweaked the method as I do not have a food processor: I used my electric beater and followed the classic method of making cakes i.e Mix all dry ingredients together and set aside-In another bowl beat butter and sugar-Add Eggs-Vanilla-Add half of the dry ingredients-Add Yogurt- Rest of the dry ingredients- Pour in boiling water-Mix in chopped chocolate. Then pour in prepared tin and bake!
Baking time is said to be 60mins but just to be safe I set my oven timer for 50mins and  when I checked, the cake was actually done by 50mins.
These changes did not make the cake any less indulgent! So I'd highly recommend this cake when the chocolate cravings are high but the energy is low.
It's totally fine to over indulge on chocolate from time to time.
-Z